A Federal Court has handed down a significant jail sentence in a retail robbery case in Southern California, the result of a cooperative effort between prosecutors and attorneys representing the retail victims.
A 31-year-old man from Paramount, California, pled guilty to a string of eight violent armed robberies in February and March and was ordered to serve 7 years, 6 months and pay restitution to several ALTO Alliance retail clients. The arrest came during surveillance by a joint law enforcement task force in which the man was seen holding a cashier at gunpoint and committing an armed robbery at a Rite Aid pharmacy in Garden Grove.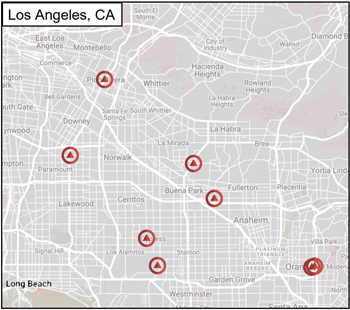 The defendant committed strong-armed robberies at pharmacies in Orange and Los Angeles counties, elevating the case to federal court. He typically entered the businesses and brandished a gun once the clerk opened a cash register, according to an affidavit filed in the federal criminal complaint. The violent spree included robbery of a Walgreens in Cypress and—the next day—of another Walgreens 16 miles away.
In the months following the arrest, attorneys for ALTO Alliance, which supports more than 300 leading retailers, acted as a conduit between the retailers and the US Attorney, providing updates, sharing information, and maintaining momentum. "From start to the finish, we kept engaged with the US Attorney and his team to get updates on where we were in the process," explained Shabnam Akhoundzadeh, managing attorney for ALTO.
The engagement was important to keep retail victims informed about progress in the case and for pushing it forward. "We continually expressed to the prosecutor's office that any additional evidence they needed from the stores we were happy to provide, or if they needed any additional interviews that we would facilitate that. It's important because that lets them know that someone is watching and following the case," said Akhoundzadeh.
At a time when retail crime victims often face lighter sentences, the case is an example that solid case building can still hold offenders to account. ALTO's efforts included securing eight victim impact statements for the prosecutor's office to use in its sentencing positioning paper. "Judges don't veer away from mandatory sentencing guidelines, but victim statements assist the judge when he or she is reviewing a case," said Akhoundzadeh.
Despite their value, prosecutors don't always take the time to collect statements from victims. "It can be really time consuming to contact all the victims, collect all the information—it's a process," Akhoundzadeh noted. In addition to helping judges evaluate the impact of a crime, the opportunity to make a statement can be important for retail workers as part of their healing process and to feel their voice is being heard during the legal process.
Often overwhelmed by heavy caseloads, prosecutors also may not have time to dig into the background of defendants, which can result in lesser sentences being handed out to frequent offenders. In some cases, ALTO attorneys conduct those deep background searches and provide the information to prosecutors.
Finally, holding perpetrators accountable requires a full accounting of losses suffered because of their crimes. In the recent case in Southern California, ALTO attorneys worked with each store that had been victimized to make a complete tally of losses and then delivered that information to prosecutors to include in their sentencing recommendations.
Source: Loss Prevention Magazine