Meet Our ALTO Team: Tiana Davis, Director of Client Services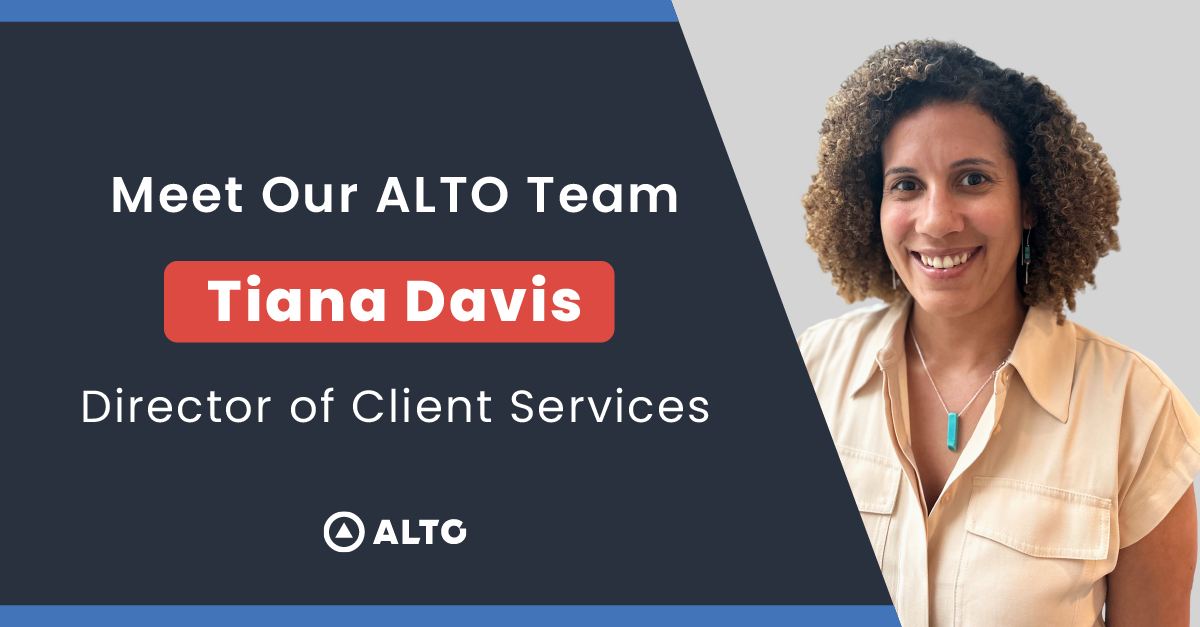 Since September of 2022, Tiana Davis has been busy behind the scenes of our operation in making communities safer – organizing plans that work for our clients, ensuring consistency throughout our operation, and implementing standard procedures for ALTO's retail safety solution.
In an internal culture that places a major emphasis on collaborative leadership, innovation, active teamwork and personal development, Tiana doesn't limit herself to a job description. She brings a unique perspective to her role as Director of Client Services that demonstrates genuine connections with clients and her colleagues, celebrating accomplishments and carrying out ALTO's heart and purpose every day.
Get to know Tiana and her valuable role at ALTO through this insightful conversation.
Can you walk us through your role at ALTO US?
I'm the Director of Client Services and I lead a team of account managers here at ALTO. Our job is to ensure our clients have a consistent and positive experience with us, starting at their onboarding.
I'm the first line of contact for onboarding clients at the corporate level and organize pilot launches, and I talk to prospective clients about our program. I build relationships with our internal teams so that we can be as productive as possible, and I spend a lot of time with our Store Operations team to ensure everything is in place for our clients.
I would say I'm like an internal cheerleader and support system. I have a master's degree in industrial and organizational psychology (I-O psych), so I really enjoy employee development and training, and just leading by example and being a good influence on my colleagues.
Can you tell us a little bit about your background before ALTO?
While finishing my psychology degree online, I became interested in I-O psych after taking a course on it. It was so new and no one had heard of it. I've always been a psychology brain – I can pick up on body language and energy, I can walk in somewhere new and read the room, and I can get a feel for the type of person someone is.
Something clicked with me – we all spend the majority of our lives at work. So why not find ways that we can make it more beneficial? We interact with coworkers and colleagues all day, so why not make those relationships and partnerships especially meaningful?
I have a lot of compassion and empathy for the communities we work with, because I've probably been in their situation at some point. My mindset is that if I have a seat at the table, so do you, and we're all going to eat. It really aligns well with the work we do.
How does your background inform your work today with ALTO?
It's given me insight into the work we do. That way I'm properly equipped to deliver turnaround and have discussions with decision makers. They're not the ones in the field every day, so sometimes they can be out of touch with what's really going on. I see myself as someone that builds a bridge between the two.
My very first field visit was back in February. I had never seen ALTO field work in person, and when I actually visited and began meeting people, it gave me the perspective I needed. Store visits, partnering with community stakeholders, and following up on their safety issues are what help me build that bridge and find that middle ground.
It's one thing to have our virtual communications, and it's another thing to get to know them, see where they're at, where they could use encouragement, and acknowledge the awesome work they do every day.
From your perspective behind the scenes, what's your personal outlook on the ALTO safety solution and the value of creating safer communities together?
It's a collective effort. Everything we talk about, breathe, do – it's always to make communities safer together. Working with attorneys and law enforcement, making community partnerships, working through pilot launches together – there's always a sense of togetherness.
We're humans who have at some point probably been impacted by these very kinds of situations, or know someone who has. I've seen firsthand that we mean what we say and do, we're sensitive to our work and we understand how it really impacts people. We do it mindfully, with a heart and a purpose.
What stands out to you the most about ALTO's unique company culture?
I think a lot of it is that sense of togetherness. Just knowing that if we're going to take on a company initiative, we're going to bring in everybody around it first and then move forward together. You have a lot of people to collaborate with and bounce ideas off of. I know I'm willing to give whatever support is needed. And there needs to be no credit in that, which is something I appreciate about everyone here.
I've met incredible people on this team who are some of the best colleagues I could ever work with. They're truly genuine people with a heart for the work we do. There's so much humility and gratitude. At ALTO, we celebrate when our teams do these big great things and let them know how awesome they are. We all work together with a positive mindset, and I think for me that's been the most refreshing thing.
ALTO's internal and external operations have given me renewed hope. We say we won't be terrible to each other, and we mean it. We might get frustrated, but we know it's not the end of the world. I've broken down walls that were up for too long. There will always be challenges, but I always know tomorrow's a new day, and I'll have the support I need to work through anything that comes up.